Click on an officer or advisor's picture to learn more about them
Adam Jump and Nick Hynson
DPS Generator
Double the trouble. Adam and Nick have combined forces to deliver you the most challenging Dead Poet Society Questions!
Amy Vennos
Vice President
I'm a junior math major originally from Salisbury. In my free time, I like to hang out with friends, eat, and browse dank memes. My goal for Math & CS Club this year is to bring in fun activities outside of school so we can get to know each other better!
Billy Romansky
Secretary
Also involved with the SU Club Soccer Team!
Justin DeMinnis
Web Master
Passionate about international soccer and american football. I play many console games on the Xbox One and I enjoy making websites in my free time!
Lela Bones
SGA Representative
Hello! I am a sophomore with a double major in Computer Science and Mathematics. This year my position is the SGA Representative of the club. I like solving puzzles, hanging with friends, and I am a huge nerd. Feel free to ask me about anything as the year goes on!
Rachel Estes
President
Rachel Estes
Samson Eben
Treasurer
NickName: Afro Samurai
Club meets Wednesdays at 6 P.M.!!
Dr. Austin
Dr. Jathan Austin is an assistant professor of mathematics at Salisbury University in Salisbury, Maryland. He received a B.S. in mathematics from Salisbury University, an M.S. in mathematics from the University of Delaware, and a Ph.D. in mathematics education also from the University of Delaware. He teaches a range of mathematics courses, both for future and current teachers and for traditional mathematics majors. His research interests include elementary number theory with connections to linear algebra and studying the mathematical development of pre-service teachers. In his free time, Jathan enjoys following numerous professional and college sports, watching and reading science fiction, and playing board games.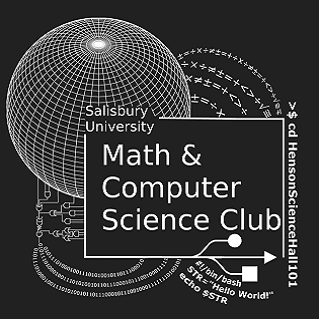 Club Advisor
Dr. Austin
Club Advisor